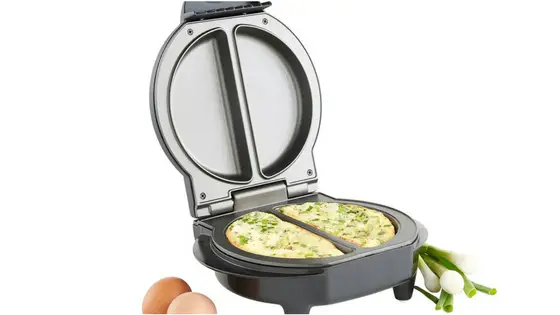 Use an electric omelette maker if you want to make perfect fluffy omelettes every time. They are fantastic and will save time and money and are perfect if you struggle with the traditional ways to make an omelette.
They are so quick and easy to use and it is so much easier to make omelettes than on the hob.
They not only make omelettes but also can cook fried and scrambled eggs.
They are great to use for even the younger cook (under supervision).
The Electric Omelette Maker Perfect Omelette Maker
When my sister told me she was getting one of these my response wasn't exactly positive.  I was like "Why"? "Whatever for?".  I didn't want to be down on her as mum had already told her it was a waste of money.  I was pretty much of the same opinion, especially since I didn't think she even liked omelettes. She told me she couldn't make omelettes and never had been able to.  I am not really sure why as she is a really good cook, she bakes, decorates cakes and even adapts and makes up her own recipes etc but for some reason, omelettes have eluded her.
My next report was when she had received it and made her first omelette. "I just made my first omelette and it turned out perfectly," she said awe in her voice.  After 20-25 years of not being able to make one that must have been an amazing feeling. Wow, impressive.
As she was telling me how easy it was and how quick to make my frugal head kicked in.  It takes 2 minutes to heat up and between 6-8 minutes to cook.  As it takes 10-15 minutes to heat my hob and then forever to cook anything I figured that having an electric omelette maker could easily save money and washing up which is always a bonus.
She suggested coming out to my house for lunch and to show me how good it was.  I agreed and so that is what we did.
easy to use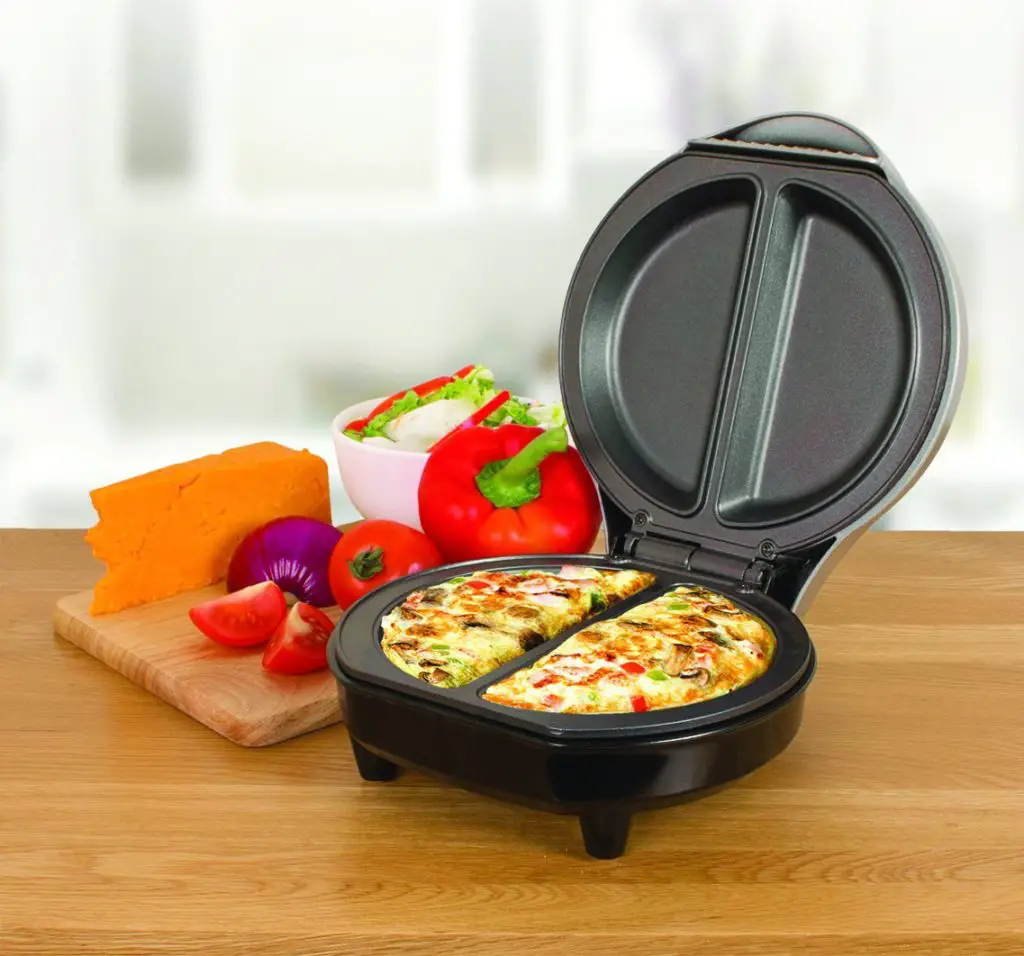 See electric omelette makers here
A Meal Cooked Using My Sisters Omelette Maker
She arrived carrying her omelette maker and handed it to me pre-prepped (she'd sprayed some oil into the sections).  I used two eggs, mixed my omelette as usual and then poured roughly even amounts into each side only half way up so they had room to fluff.
Put the lid down and checked the time.  You are not allowed to open for five minutes or they will flop. About 3 minutes in I popped my baked beans into the microwave.
6 minutes later, just like she said out popped two perfect moon shaped omelettes.  Wow, just wow! That was truly amazing.  They tasted fantastic and were light and fluffy. They didn't stick to the plate.  My only criticism is that the omelettes lose a bit of their fluff when you slid them out.  I was really impressed. They really are well worth the money and they aren't really that expensive anyway.
perfect results, frees up time, easy to clean fast 6-8 minutes can also use to fry and scramble eggs
The VonShef Omelette Maker Demo Video
This is my sister's omelette maker in action well the same make anyway.  Isn't is amazing? The Quest one also looks good too. Some of the others are better if you want larger quantities.The Electric Omelette Maker Makes Perfect Omelettes, So What Do You need in a Quality Omelette Maker?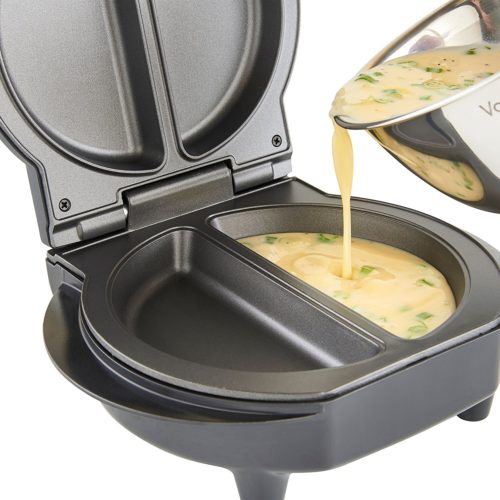 See electric omelette makers here
The VonShef electric omelette maker is all of the following:
Easy to use
Easy to clean – you can just wipe over
It has non-stick plates
Cooks the omelettes right through well
Easy to remove the cooked omelette
It has a ready hot light
Feet to support and raise the omelette maker off of the counter tops
A good warranty
Cooks sides of the omelette with no flipping over
Quality made