When buying a new set of scales you want ones that are fast, accurate and easy to use.  However, there are lots of other things to think about before buying so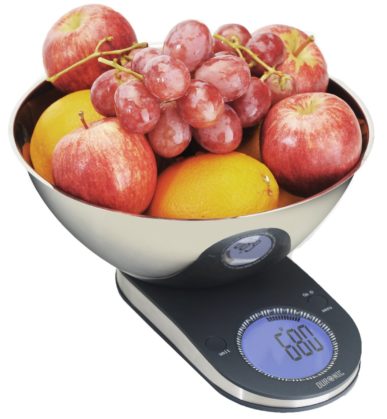 that you get the best digital kitchen scales for you. How accurate and fast are they?  Do you need an aquatronics function for liquids? Can you add and zero your ingredients?
This post covers the things to think about that could be useful to you  when looking for a new set of digital scales.  A table is included for your ease and quick overview with links to in-depth
A table is included for your ease and quick overview with links to in-depth
reviews on 5 top rated scales or to the scales themselves if you are short on time.
5 of Best Digital Kitchen Scales -Quick Review
Item
Smart Weigh PL11B Professional Digital Kitchen Scale -Tempered Glass Platform
The Duronic KS5000 Large Display Digital Kitchen Scale
Salter Stainless Steel Platform Electronic Kitchen Scale
Salter 1036 Disc Electronic Kitchen Scale
Smart Weigh CSB2KG Cuisine Digital Kitchen Scale with a Removable Bowl
Star Rating

♥♥♥♥♥

  

♥♥♥♥♥

 

♥♥♥♥♥

 

♥♥♥♥♥

 ♥♥♥♥

 
Accuracy to
1g
1g
1g
1g
0.1 gram
Easy to Use
Yes
Yes
Yes
Yes
Yes
Scales Weight
630g
862g(boxed)
549g
299g
445g
Display
LCD
LCD(LRG)
LCD
LCD
LCD(LRG)
Backlit
No
Yes Blue
No
No
Yes
Auto Shutoff
No
Yes
Yes  3 mins
2min 55sec
60sec
Tare Function
Yes
Yes
Yes
Yes
Yes
Measured In
1g/1 ml/ 0.1 fl.oz/o.1 oz
g/fl.oz/ lb:oz/ml
grams oz fll.oz ml lbs
grams oz fll.oz ml lbs
g &oz
Max. Capacity
5Kg
5Kg
5Kg
5Kg
2Kg
See the Scales
S/W Glass
Duronic
Platform
Salter
Smart Weigh
Or See Our In-Depth Reviews
The Smart Weigh Scales
Duronic Review
More on Salter
Smart Weigh Scales with a Bowl
Below are many of the things to consider when buying a set of digital kitchen scales.  The best scales for your own use may not necessarily be the same as the most popular or the most starred items as this will depend on your own personal needs.  All the things mentioned below are covered in our individual in-depth reviews to help you decide on which kitchen scales are right for you and your kitchen. The quick table contents is included to save you time so you can just jump to the elements that are most important to you.  Alternatively, just click on the scales that are of interest in our quick info table.
How Easy Are the Scales to Use? 
What is the Weight Range of Scales and What Increments Do they Use?
What weight range do you need?  Kitchen scales are usually up to 5kg (11lb). However, some go up to only 2 kg and others as much as 7kg. These are normally in 1 g increments.  If sometimes you want smaller quantities.  For these, there are the pocket scales.  These weigh up to 100 grams and are in 0.01 gram increments.
What Measurements Do the Scales Use?
Most of the scales use all the following 1g/1 ml/ 0.1 fl.oz/o.1 oz, with both liquid and dry readings.  However, some scales Like the Smart Weigh with a bowl only use g and oz.
The graduation is usually in 1 gram amounts.
What is the total weighing area of the platform?
The total weighing area of the platform of the scales is not huge. However, when you add a bowl it is more than enough for most needs.  Some scales are better suited to different sized bowls than others.
Is There a Tare Function?
A tare function is really useful as it means you can add more and more ingredients and reset the scales to zero so each ingredient can be added to the whole recipe yet is weighed separately.
The Scales Design
Are the Scales Good at Weighing Your ingredients consistently and accurately?
All the scales have been chosen because they are fast, consistent and accurate at weighing.
Is Cleaning Easy?
With our busy lives, it is important that where possible things are quick and easy to use and equally easy to clean.  These scales have been chosen because they can easily be wiped over or have bowls that can be popped into a dishwasher if you have one.
The Digital Display And Ease Of Use of the Scales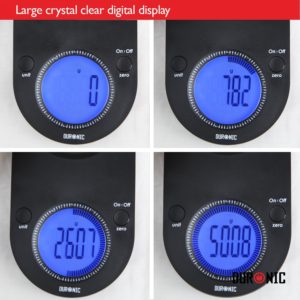 Are The Scales Back Lit?
Not all scales are backlit and not everyone needs them to be.  However, if your kitchen area is not as light as you would like or you prefer larger or clearer readings or have difficulty seeing the black on grey readings it is worth considering scales with a backlight.
How Large Are the Digits?
For those that prefer to have larger clearer digits either because they like them or out of necessity, some larger digit models have been chosen.
If a large clear display with backlighting is of most important to you then the Duronic scales are the best to get as they have a large digital display with a very bright blue backlight.
The Number of Buttons
Ease of use is important, these have very few buttons for controlling the Tare or the type of weight shown so this makes them very easy to use.
Is There an Automatic Shut Off?
Many scales have an automatic shut off to save the batteries.  However, the time ranges considerably from only 60 seconds to several minutes.  Some scales do allow you to switch this off.  These are both useful and an annoyance as if you take too long to add your next ingredients they can shut down.  Of course, if you zero your scales anyway it shouldn't be a problem.  How you use this function can determine whether having them on your scales is an asset or liability.
What is the Power Source/Battery Type?
With some batteries being easier and cheaper to buy than others so it is worth considering how easy the battery is to replace when the time comes.  And now easy it is to open the scales to fit them.  These Smart Weigh have 2 AA batteries and the Duronic scales have 3xAAA batteries while the others have disc batteries.  Also, is there a low battery indicator?
How Stable are the Scales When in Use?
The stability of the scales when they are placed on a flat surface while in use is important.  Some models have extra stability factored in, special foot pads for example.
Is the Weight of the Scales Important to You?
None of the scales reviewed are very heavy and can be easily moved when you have finished with them.